Castellare di Castellina
I sodi di San Niccolò
Born in the 1970s in Castellina in Chianti, Castellare di Castellina estate covers a total of 80 hectares, of which 33 are vineyards and 12 olive groves, nestled on the hills of a natural amphitheater facing south-east, with an average altitude of 430 m above sea level. The vines are up to 45 years of age, with yields per hectare kept very low, according to Chianti Classico denomination rules, in order to obtain top quality. An excellent exposure and a mixed soil containing limestone marl, galestro and little clay produce well-structured, intense wines, suitable for long ageing in the bottle.
In the 1970s, Paolo Panerai decided to contribute to the Italian enological Renaissance by founding Castellare di Castellina in Chianti Classico. Since then, the company has grown to the point of being included by Wine Spectator-OperaWine 2021 among the 34 best wineries in Italy. A respect for the environment has been one of the pillars of Castellare's production since the very beginning. Therefore, no synthetic chemicals, herbicides, pesticides are used in the vineyards. Symbol of this commitment is the iconic bird that appears, a different one every year, on the labels from the first vintage.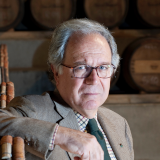 Paolo Panerai
Proprietario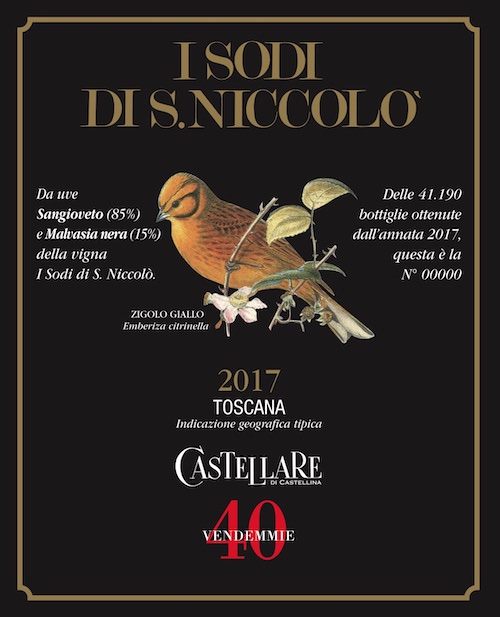 Bottled for the first time in 1977, I Sodi di S. Niccolò is one of the few Super Tuscans made only with native vines: 85% Sangioveto and 15% Malvasia Nera. The name, suggested by Luigi Veronelli, comes from the word used by Tuscan peasants to describe the terrains that had to be hand-worked, being too hard (sodi means "hard" in Italian), as in the case of the company's oldest vineyard. San Niccolò is the name of the church located within the property and of the nearby vineyard. I Sodi di S. Niccolò was the first Italian wine included in Wine Spectator's 1988 Top 100 list with the 1985 vintage; and again in 1989 with 1986 vintage. With the 2016 vintage, it was for the second time (the first with 2013) the 1st Italian wine by adding the scores of the 5 Italian guides and the 4 most authoritative international wine critics.