Antinori
San Casciano in Val di pesa
Tignanello
Tenuta Tignanello estate is in the heart of Chianti Classico, on the gently rolling hillsides between the Greve and Pesa river valleys. It extends over an area of 319 hectares (788 acres), of which about 130 (321 acres) are dedicated to vines. Throughout the 1970's, Tenuta Tignanello was the location for Marchesi Antinori's viticultural research and development activities. Two of the estate's most outstanding vineyards are on the same hillside, Tignanello and Solaia, on soils that originated from marine marlstone from the Pliocene period rich in limestone and schist. The vines enjoy hot temperatures during the day and cooler evenings throughout the growing season. Solaia and Tignanello are produced from the estate's eponymous vineyards; two influential wines that launched what is known as the Italian wine Renaissance.
The Antinori family has been committed to the art of winemaking since 1385 when Giovanni di Piero Antinori became a member of the Florentine Winemakers' Guild. All throughout its history, 26 generations long, the Antinori family has managed the business directly, making innovative and sometimes bold decisions while upholding the utmost respect for traditions and the environment. So today, it's the 26th generation, sisters Albiera, Allegra and Alessia Antinori, who take care of the family business with the support of Renzo Cotarella. Their father, Marchese Piero Antinori, is the current Honorary President of the company.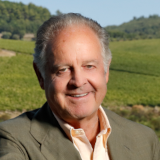 Piero Antinori
Owner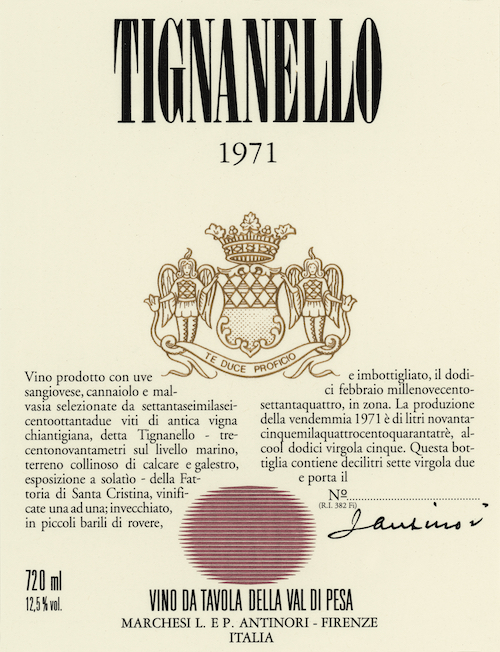 Tignanello was first crafted in 1971 from a vineyard of seventy-six thousand one hundred eighty-two vines in an ancient vineyard in Chianti called Tignanello. The vines grow on rolling hillsides in subsoils rich in Alberese (clay and limestone) and Galestro (marl and limestone) at an altitude of 390 meters (1280 feet) above sea level. Tignanello was the first Sangiovese to be aged in barriques, the first contemporary red wine blended with untraditional grape varieties (specifically Cabernet) and one of the first red wines from Chianti Classico that did not use white grapes. Tignanello Toscana IGT is a milestone. It's produced with a selection of Sangiovese and Cabernet.